March 23, 2020
The company of wolves
Notes from not-a-farm in the time of Covid-19.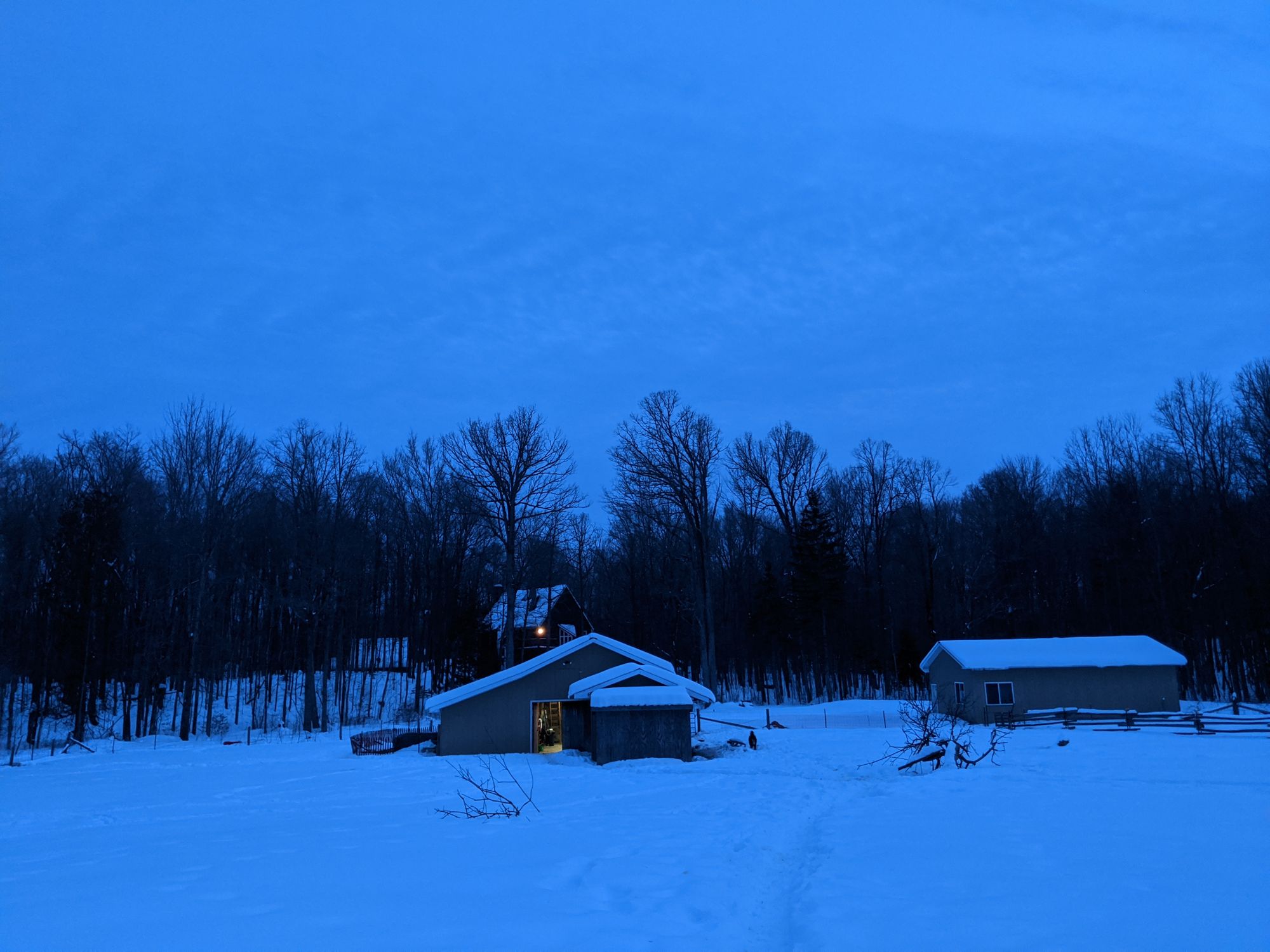 A few nights ago Jesse was up at about 3am and heard the wolves of Wolf Grove employing their "distributed communications network" in full force. We never see the wolves, but we know they are there.
They leave tracks along the hydro right of way that connects all the properties and acts as an animal highway. As dusk falls, all of my animals respond to their invisible presence. The goats become desperate to get into the barn and Harriet barks angrily at the woods. The crows are often active at this time of day as well, cawing to each other as they choose where to congregate for the night.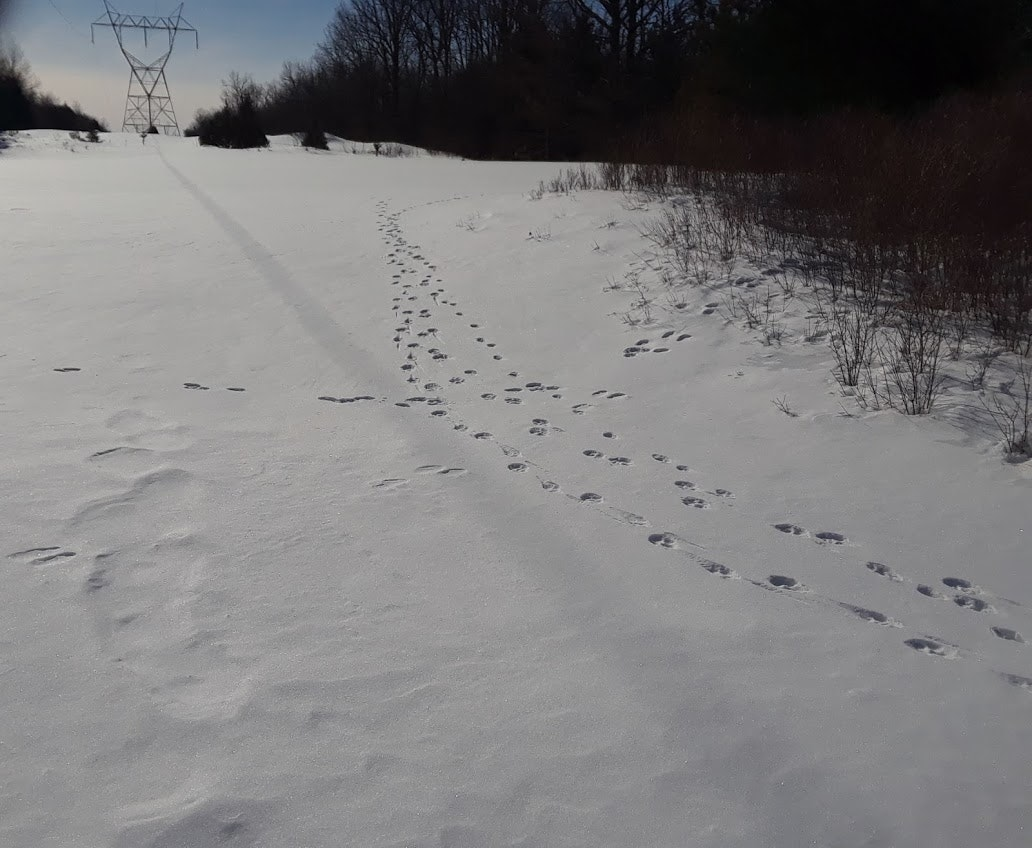 Co-existence with a presence discernable only in its traces and effects is a reality we are all experiencing now. A stealth virus that exploits asymptomatic carriers to spread widely, in its own quest to reproduce and survive, is yet another reminder that our species' supposed dominion over nature is illusory at best.
A historian by training, I've always wondered what it would be like to live through a self-evidently historical moment. Part of my doctoral work involved the study of the major epidemics of the 19th century and I used to trade historical tidbits with my epidemiologist rowing friend who is suddenly in the news a lot these days.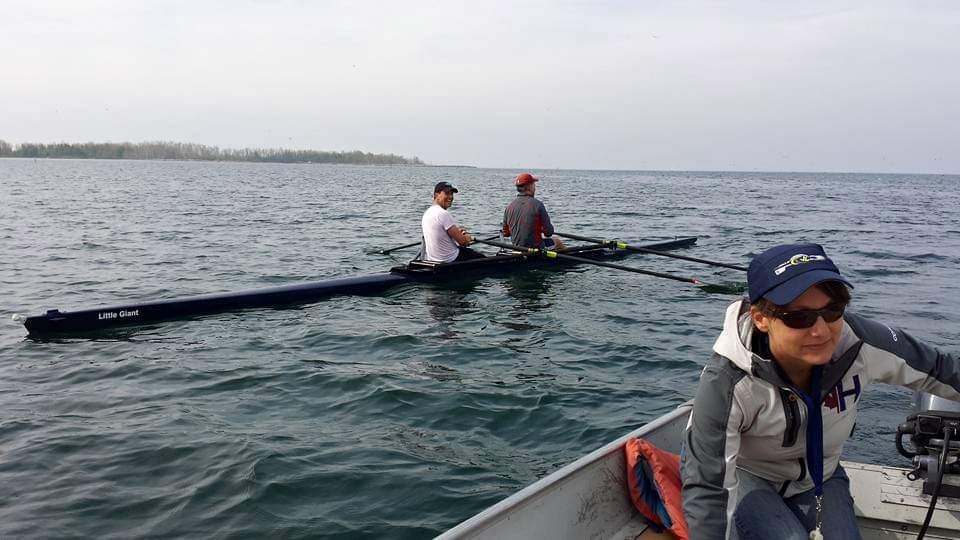 My grandparents lived through WWI, the 1918 flu pandemic, and the Great Depression; with them, my parents experienced as children WWII and its aftermath. I had always felt curiously insulated from these types of cataclysmic events. But now here we are.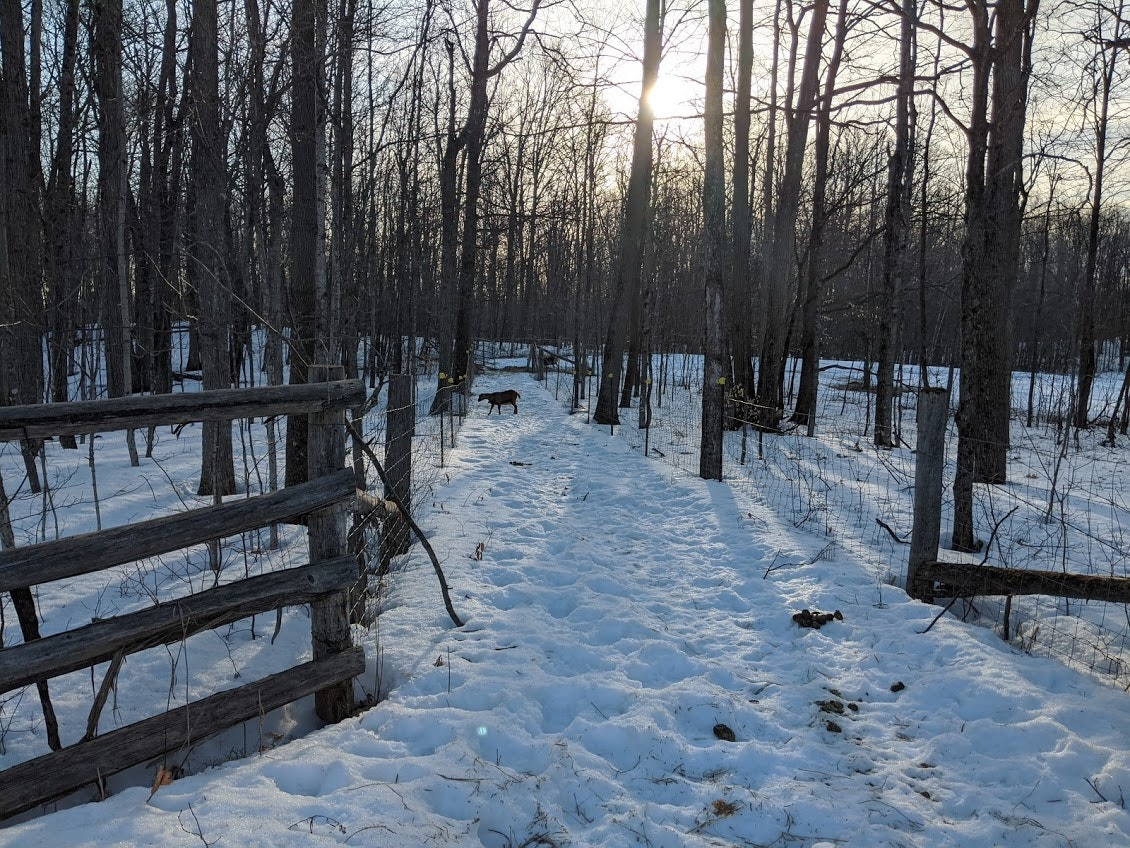 The most obvious impact in Lanark County, the self-proclaimed "maple syrup capital of Ontario," is the cancellation of all the sugaring off events that normally take place in March and produce the yearly revenue that keeps the smaller tapping operations afloat. Many will probably be forced out of business after this spring. We have also discovered that our grocery store in Carleton Place now looks like many other these days—empty shelves, panicked shoppers, strict decontamination policies. Last weekend when we stopped by the feed store to buy supplies for the animals, all the farmers were laughing about city folks panic-buying toilet paper. Now you phone in your order in advance and pick it up outside.
That said, we do still feel more insulated from the worst of it. Our area is both a bedroom community for Ottawa commuters and increasingly, a landing spot for telecommuting knowledge profesionals. But population density is much lower here, decreasing not just the number of possible contacts but also the rate of exposure—important when a link between multiple exposures and the intensity of illness is emerging.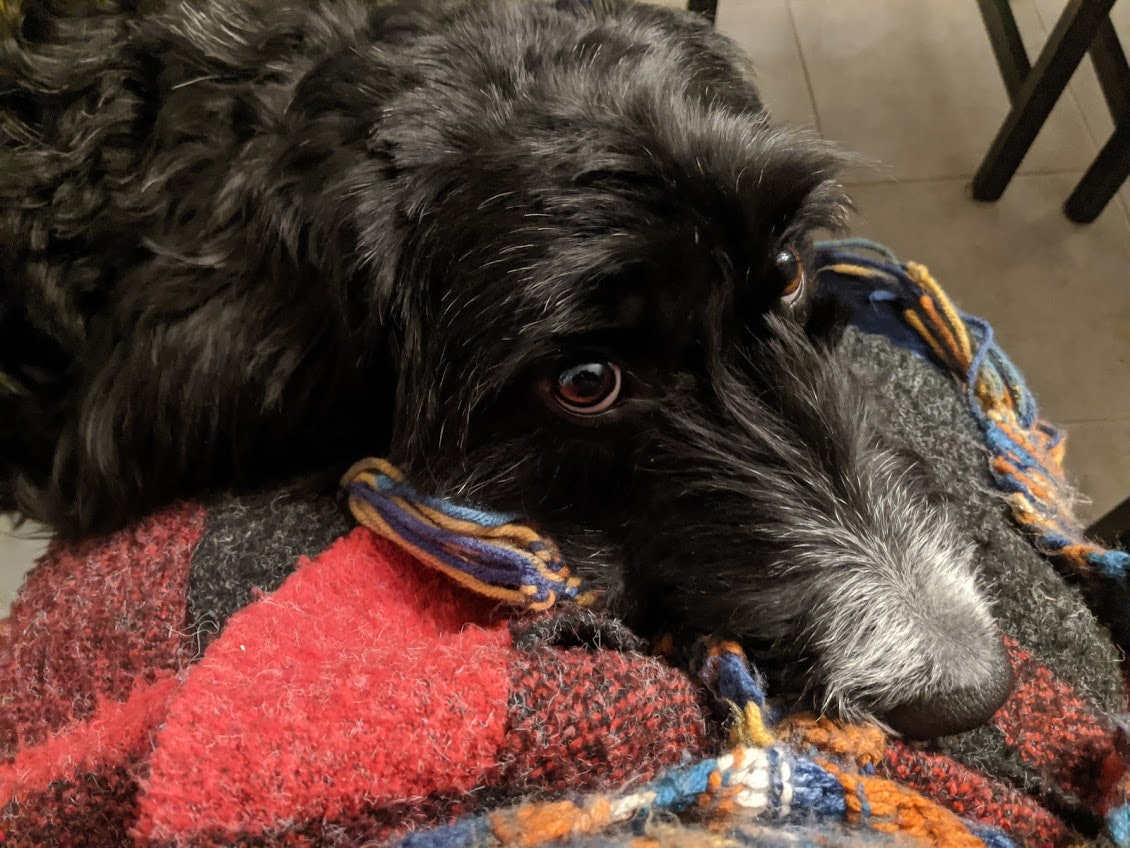 Things have not changed too much here for us in the day-to-day routine at home. We were already practicing a sort of social distancing as a side-effect of moving away from all our friends and family in Toronto a year ago. We work at home and were only just beginning to form social connections in our new community. While I found the drastic reduction in social contact very difficult initially, it now feels normal.
The animals we live with and the sheer beauty of the natural setting in which we now live do much to offset this isolation. I am training regularly again—this was to be the year I was going to row with other people again and return to racing, although it now seems unlikely there will be a normal regatta season. A daily hour dedicated to physical activity, plus the endless round of outdoor chores, breaks up stretches spent indoors staring at a screen. Moreover, at the beginning of February I realized a lifelong dream when we added a new equine member to the faculty here at the Academy of the Impossible.
Introducing Federica, a different kind of "project horse"
A "project horse" is typically a green (untrained) young horse acquired at a bargain price, trained either to suit the new owner's needs or to flip for resale. Federica (neé Centauri) is a 2 year old Thoroughbred filly purchased at auction when she was approximately 7 months old by her previous owner, Tara of Erin Hill Farms, just outside of Carleton Place.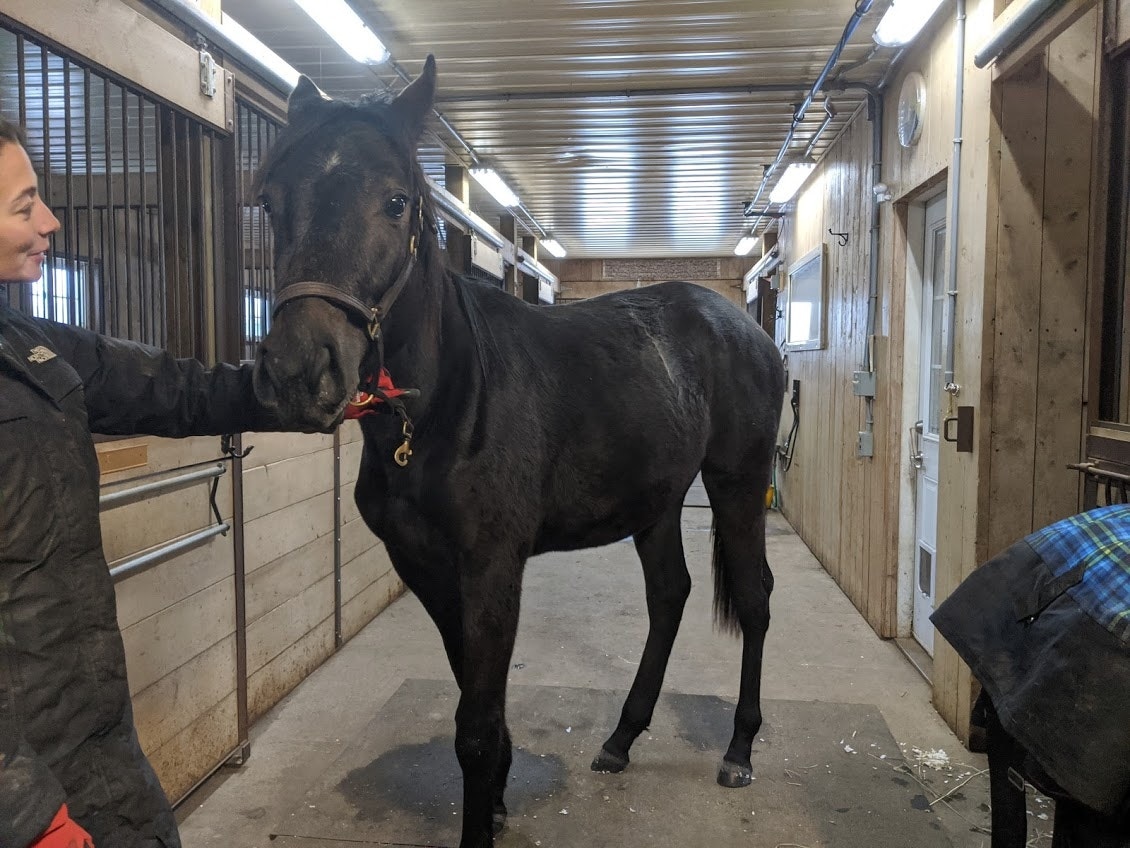 Tara had high hopes of turning this little girl into a sport horse (for jumping). But a serious infection to her left front hoof quashed those hopes and any future return on investment, turning her into a financial burden. Horses that don't earn their keep often end up being sold on a per pound basis for meat, but Tara was determined to rehome her. And that is how she ended up with us.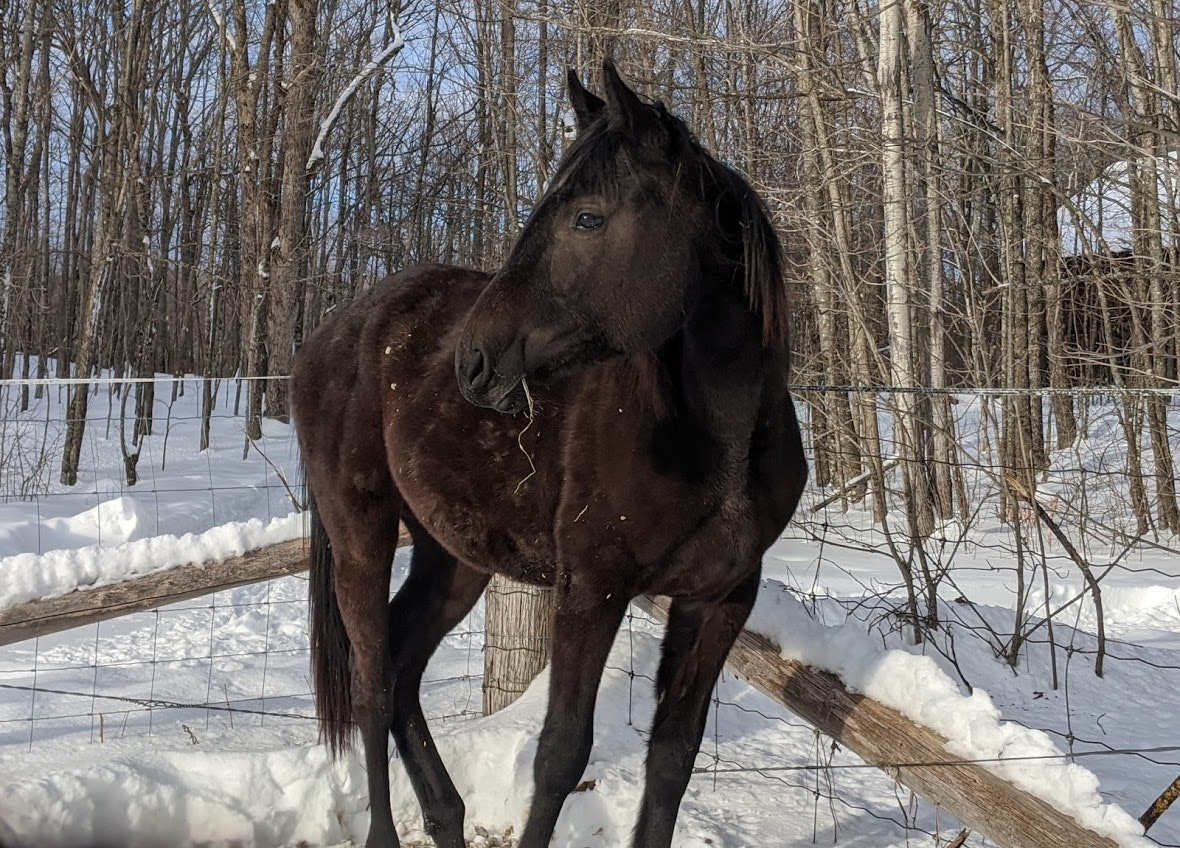 After our custom, we re-named her Federica Montseny, after the "matriarch of Spanish anarchists." Montseny was health minister of the Republican government and thus the first Spanish woman to hold a cabinet post. A lifelong learner, lover of nature, and foe of injustice, she was someone I'm pretty sure I would have loved as much as I already love this horse:
I knew by the sound of her walk that the woman who appeared had to be Federica Montseny: she radiates irresistible energy. —Shirley Fredericks, Federica Montseny and Spanish Anarchist Feminism
I did not plan on acquiring a Thoroughbred. In fact, I had my heart set on an older, fully trained mustang. I wanted a horse that had evolved to be super hardy in cold temperatures, with flinty, low maintenance hooves, a sturdy and well-built if unbeautiful conformation (body structure). An "easy keeper" (whose metabolism is highly efficient at converting food into energy) with a no-nonsense temperament, fully grown and already trained to take a rider. Federica is pretty much the opposite of this on all counts.
Thoroughbreds have long been said to all trace back to three 18th-century Arabian sires imported to England. Genetic testing has recently demonstrated these sires to be Turkoman rather than Arab in origin--the closest modern descendant are Akhal-Tekes (famously dubbed "super fuckable" by John Oliver at 8:12 in the video below).
Registration has been closed to outside bloodlines since 1793: these horses, more than most, are the product of human rather than natural selection. Thin-skinned, heat shedding (which is adaptive as athletes), "poor keepers," they have a reputation for being highstrung and anxious.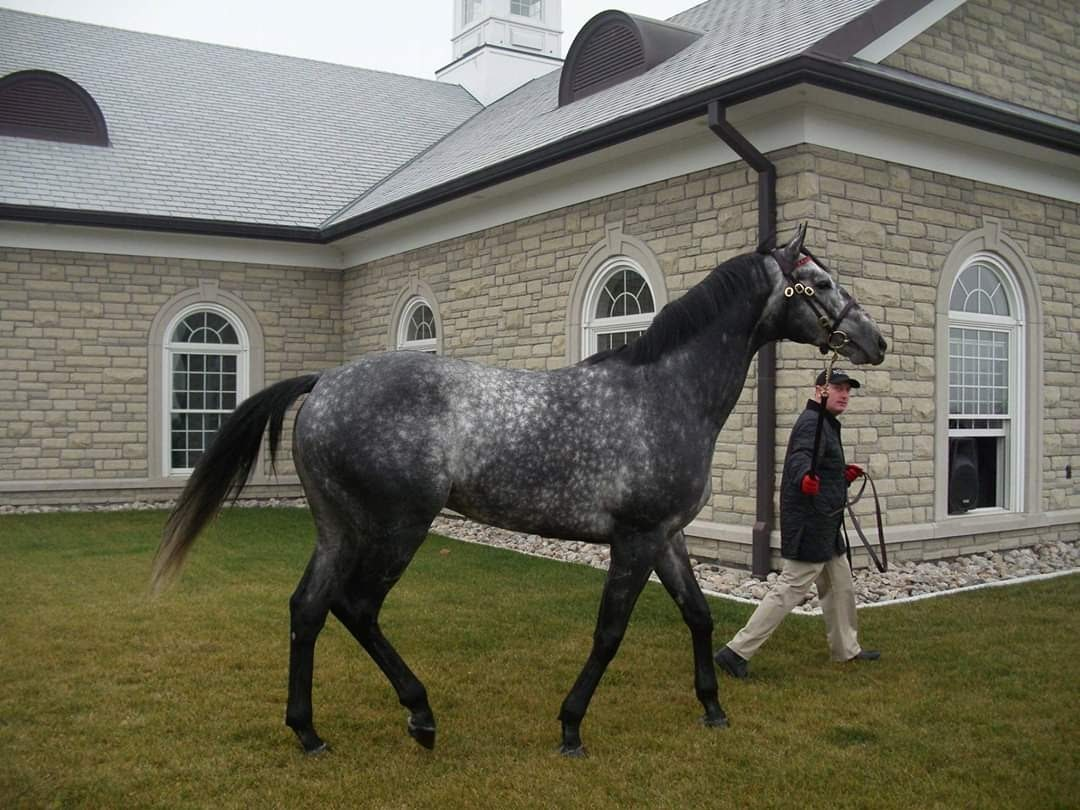 These days TBs are mass produced for the racing industry, often without regard to faulty conformation or durability. Raced as two year olds—bear in mind that a horse's skeleton is still growing until it's six, so this has lasting impacts in terms of damage to the joints—they are essentially treated as disposable creatures.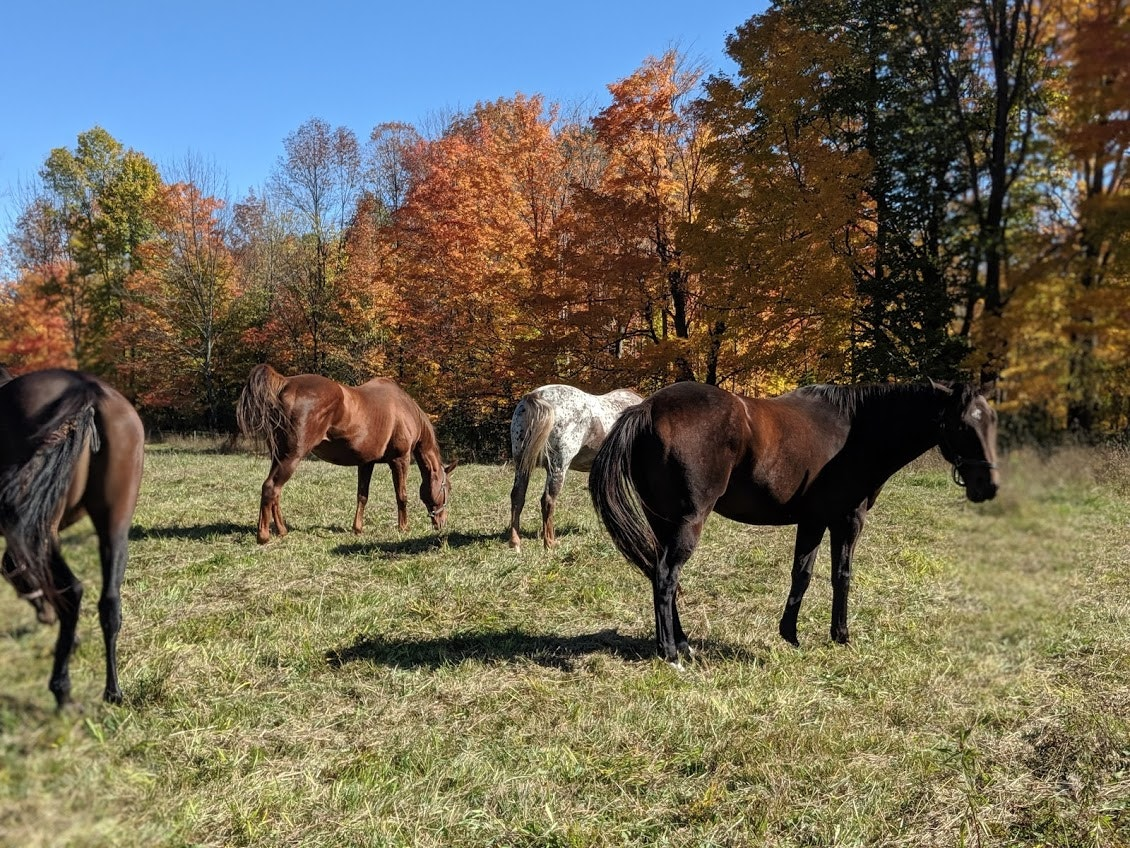 Working with a neighbour's TBs last fall did turn me around on the infamous TB temperament, the worst of which seems to reflect how the horses are kept rather than some intrinsic fault. Let to live like horses—outdoors, with friends, and unrestricted forage—rather than cooped up alone in a stall and pumped full of high energy feed, they are no better or worse than any other breed.
The real question was what value did this completely green filly with her damaged hoof and less than ideal conformation—her back legs are "cow-hocked"(knock-kneed) and she is markedly asymmetrical in her front pasterns—bring to us?
Horses are a luxury for a reason. They are more expensive to keep than most other animals—there are a few different reasons for this, some biological, others cultural—and generally speaking they are no longer kept as "working" animals. However, to my mind, Federica brings three assets: she is a source of beauty, continuous learning experiences, and an endless supply of manure.
Natural beauty is an undervalued resource, but I'll defer my comments on that to the end of this post and just leave this short video of Federica in motion here:
I've worked with horses intermittantly over the course of many years, but caring for Federica is throwing me into all sorts of new areas of self-education. My experiment with positive reinforcement training with Harriet gave me some background for using it with horses, as did a clinic in January with local R+ trainers Diana Bayer and her daughter Melissa. It'll be years before Federica will be rideable, but in the meantime there is plenty of groundwork training that can be done.
Hoof health is a area of study I've never been more passionate about; equine bodywork will be next. I've been so fortunate to make a new friend locally in Jenn Derksen, who happens to be much further along in her study of both areas and as interested in sharing her learning as I am in learning from her. She also happens to be an expert coach in riding biomechanics, so you can imagine that the rowing coach in me is just itching to translate my obsession with body alignment and kinesthetic cues into another sport.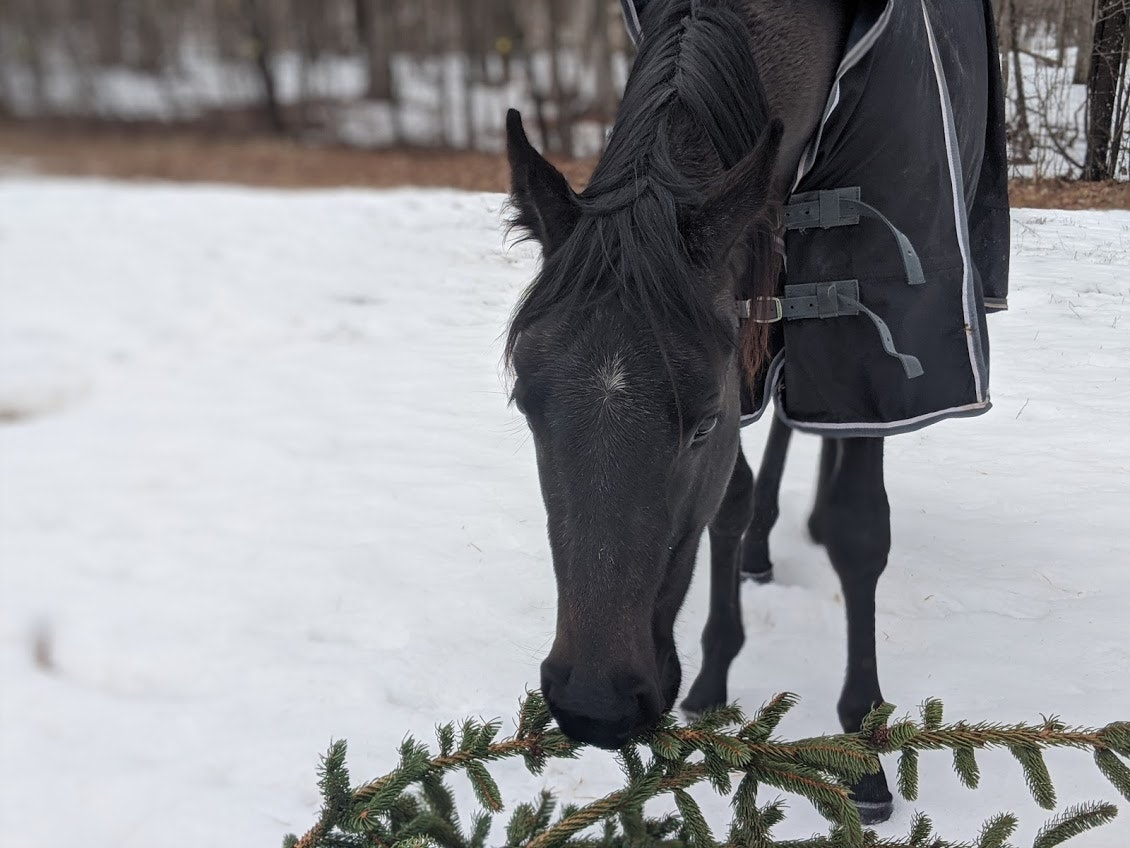 Finally, every day as I shovel up the truly prodigious amounts of digested plant material excreted by this growing girl, I reflect upon the copious amount of soil amendments she is supplying us with. I have already started using the mixture of wood shavings and manure from her stall to build up the ground in various low spots where water habitually pools, but the rest is composting so it will be usable in my garden beds. I will never buy another bag of manure again from a garden centre.
Meanwhile, every day is a new day of goat chaos
By nature, goats are chaotic creatures. Adding pregnancy hormones into the mix has only amplified the chaos. At least, this is what I am telling myself.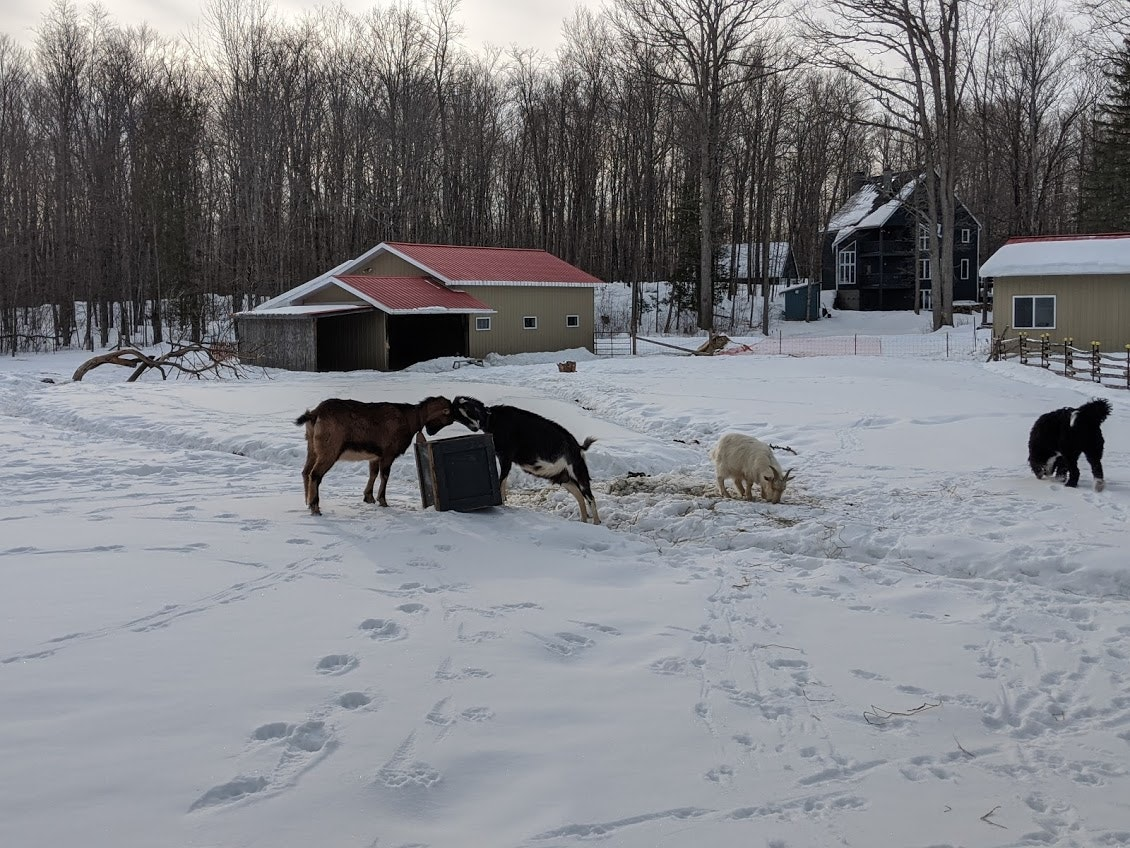 Goat pregnancy is notoriously difficult to determine without an ultrasound scan until the point at which it becomes inescapably obvious. Because our little buck, Patrice, did not join us until the very end of October, the first possible date for a full term birth is this coming Friday (the 27th). Even that is unlikely since the girls didn't let him get close to them right away.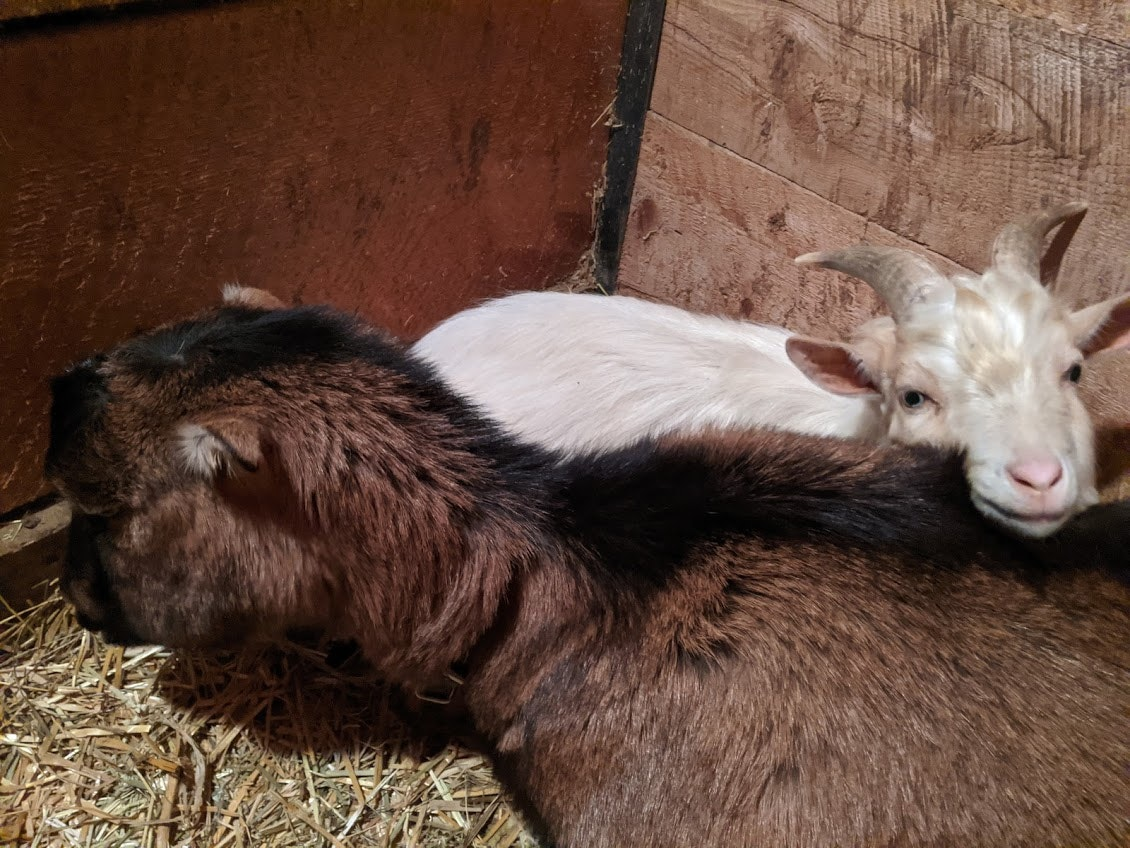 What I can say is that the familiar sensation of mysterious aquatic creatures surging under your touch that I recall from my own pregnancy with twins is what I feel when I palpate their abdomens. The movements have become more distinct over time, and Lucy's have always been more pronounced. I am fairly confident we will have some kids arriving in April, but really I won't be absolutely certain until these girls actually go into labour.
In the meantime, there have been some marked alterations in their behaviour. Lucy is simply more hyper than ever, but Elaine has gone from aloof to desperate for cuddles.
Fences have long been but a suggestion to Lucy, who chooses to heed them or not, depending upon her mood that day and hour. Typically she does not stray far, and often can be found sunning herself in front of the barn or on the wooden footbridge on a warm afternoon.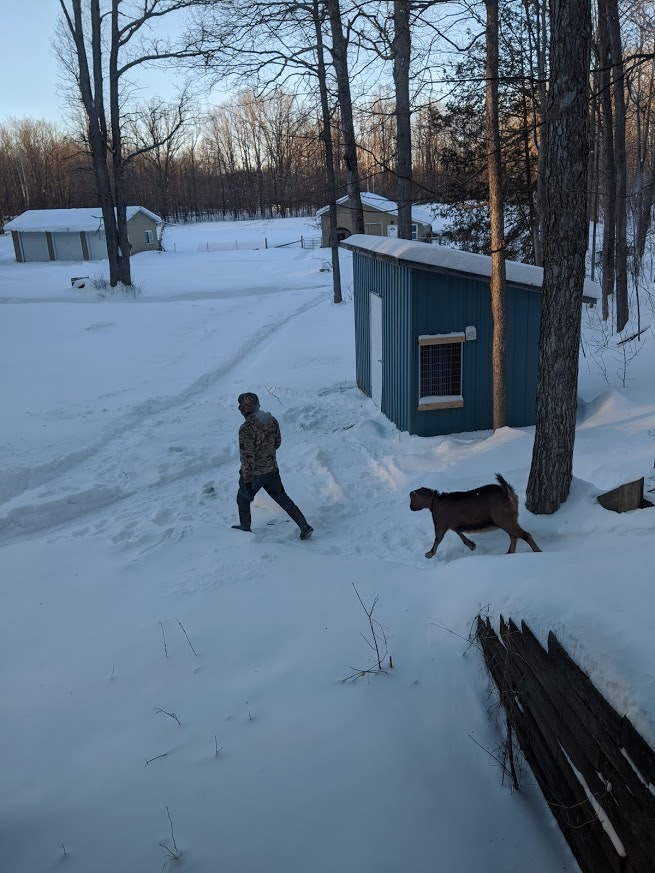 When she does come up toward the house, we send out Harriet to chase her back into the pasture. Or sometimes Jesse goes out, since she will follow him anywhere. Less endearing is her habit of breaking into the chicken coop whenever she sees an opportunity. Unfortunately, the others have learned from her both of these behaviours.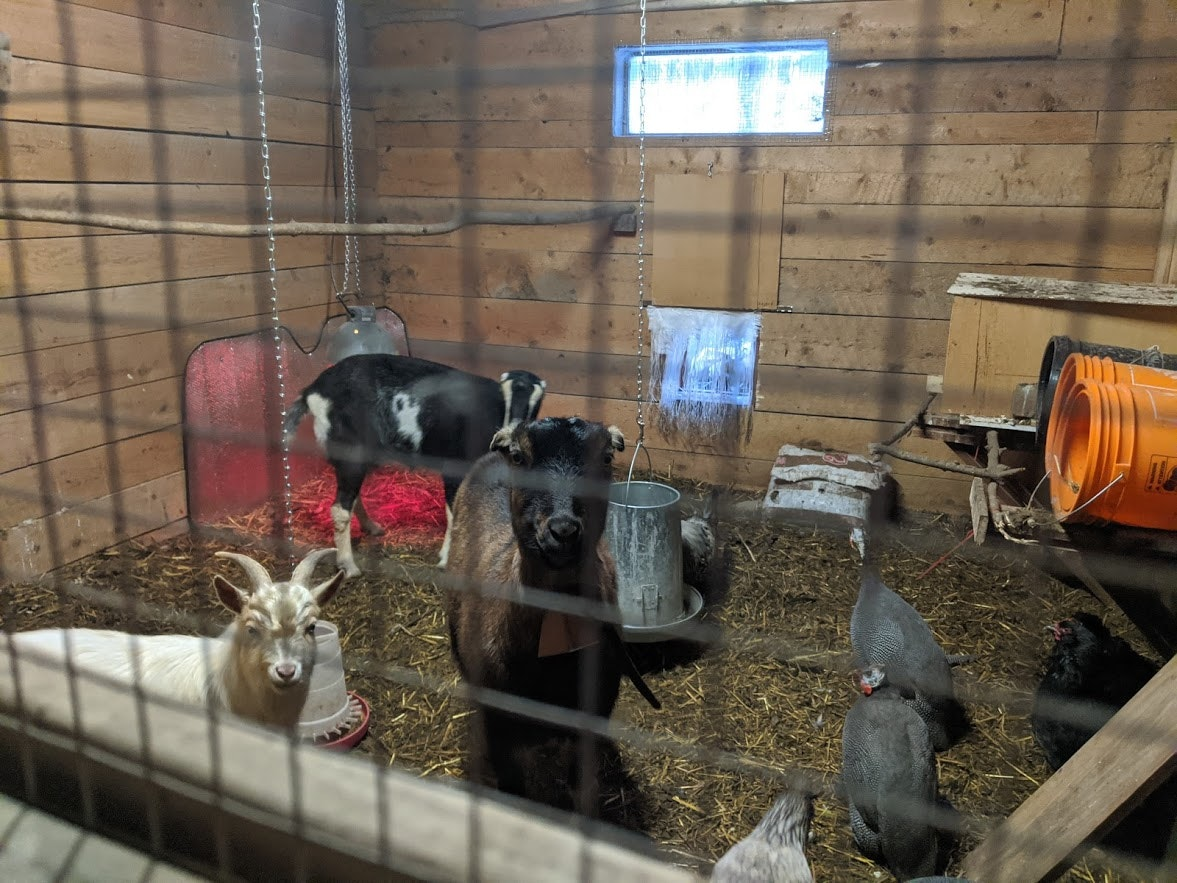 While neither Elaine nor Patrice have the size or athleticism to soar over the full height fences at will, they have discovered the spot behind the driveshed where the snow and ice sliding off the roof has crushed the wire fence and provided a convenient frozen ramp leading up to it. There is no longer any guarantee that they stay in the pasture. In the epic ongoing struggle between me and the goats, they are currently one up.
What's up in the chicken coop
First, the sad news. RIP Frida Kahlo, who died in early January from an infection that has been working its way through my flock since December. (FYI, colds in chickens are severe and gross in unexpected ways). Frida was beautiful, spirited, and a reliable layer of blue eggs, so she is very much missed. Both of my fawn coloured chickens are gone now.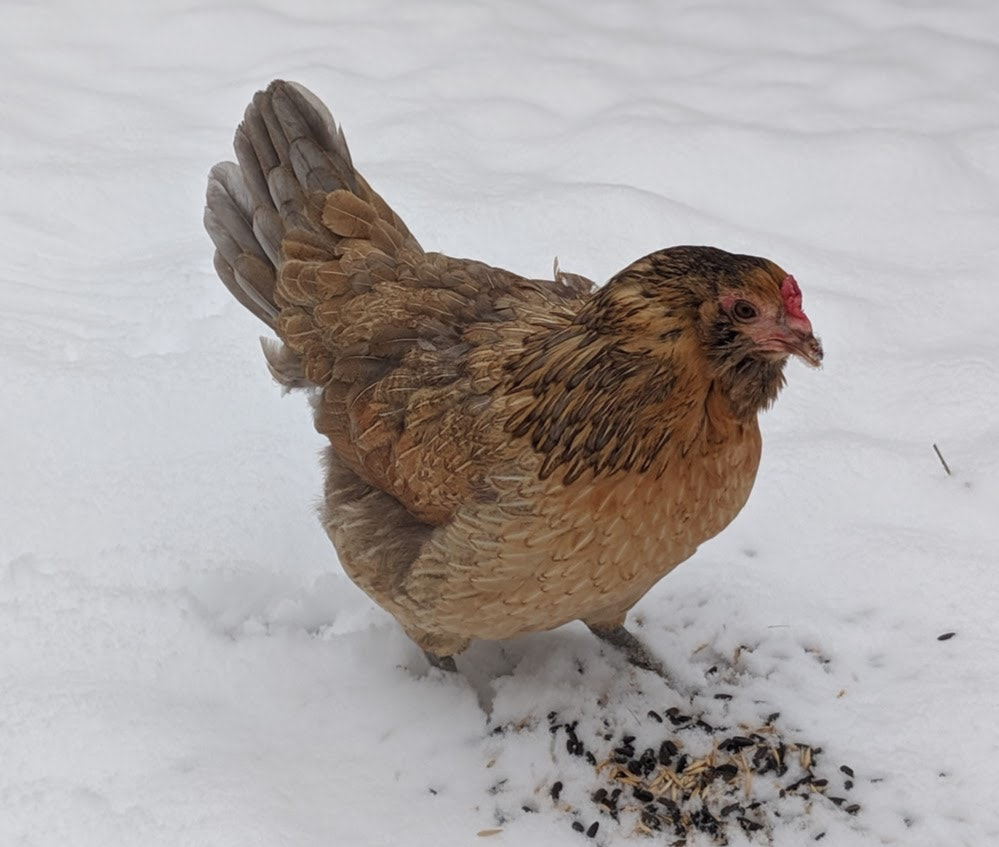 In better news, my runty Wyandotte rooster Bernie Sanders, who suffered a relapse and looked to be on his way out of this world, is looking markedly better these days.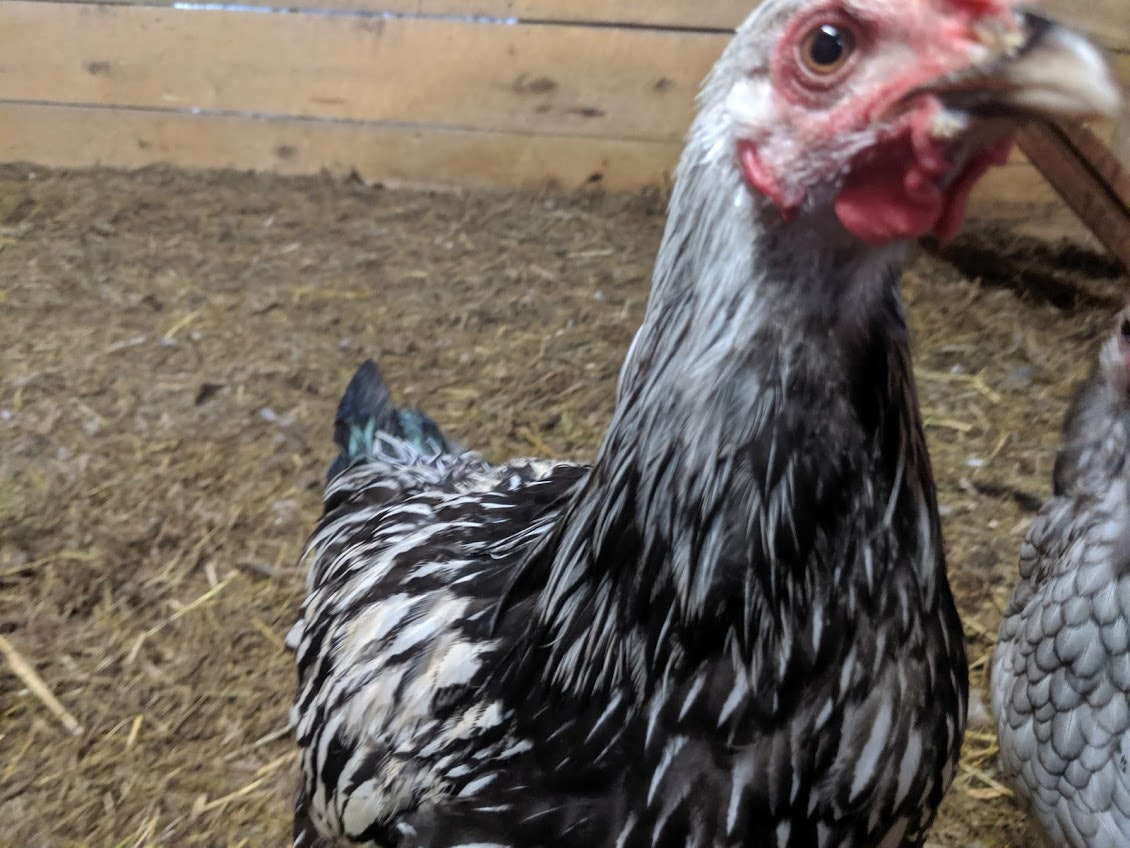 He may have fought his way back from the edge. Unfortunately, all of my roosters are going nuts with the onset of spring, and I will have to start culling the extras as soon as the weather is warm enough that I can stand de-feathering them in a bucket of warm water (it's hard to justify investing $700 in a drum de-featherer when you are processing just the occasional bird).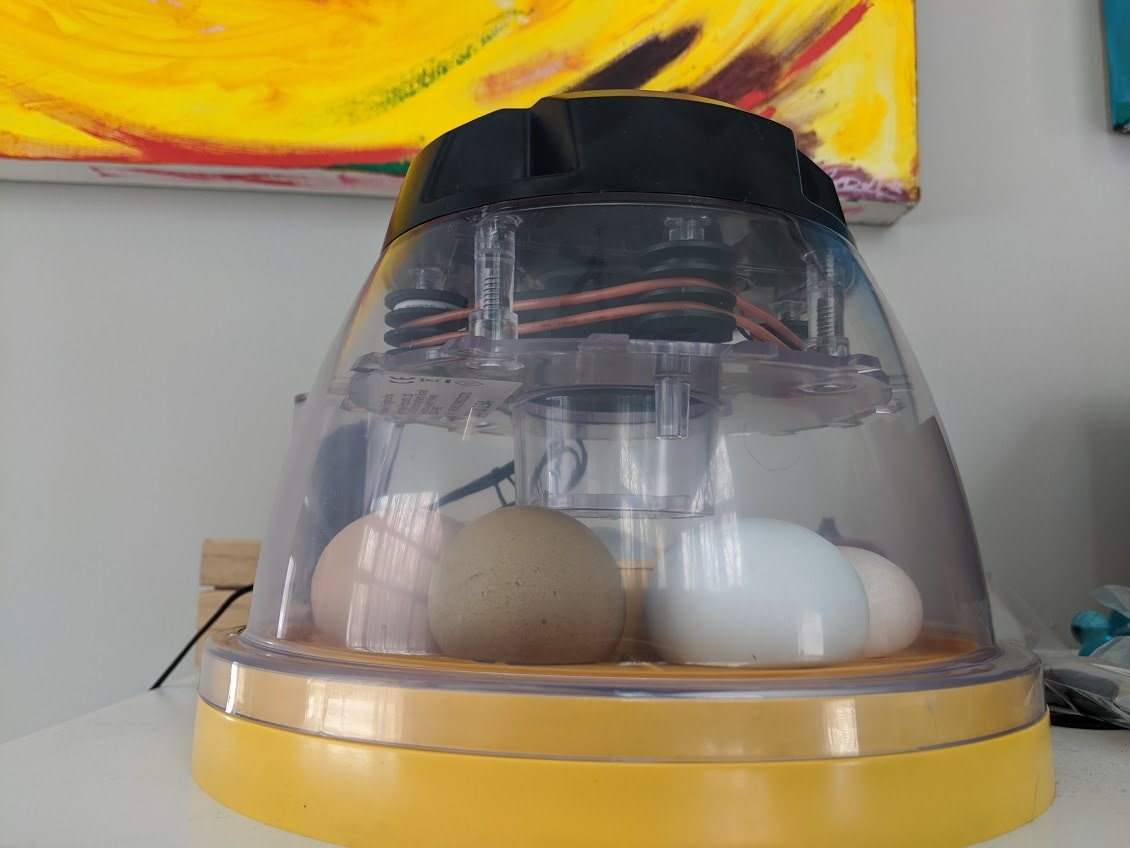 They will be replaced by the next generation, as we did spring for the exorbitantly priced but universally acclaimed Brinsea Mini II fully automatic incubator. If all goes well, we will have seven chicks 18 days from now! Half the fun will be trying to guess who their parents are.
Finally, upon the benefits of natural beauty
If you are also a subscriber to Jesse's Metaviews newsletter, you may have noted that he alluded in today's issue to my dad's inauspiciously timed upcoming surgery.
While the frustrations of not being able to be there in person are considerable—not to mention dealing with a broken healthcare system that does so little to truly support people at their most vulnerable—I can say that I am truly fortunate in being continually surrounded by incredible beauty everywhere I look. It is not a small consolation.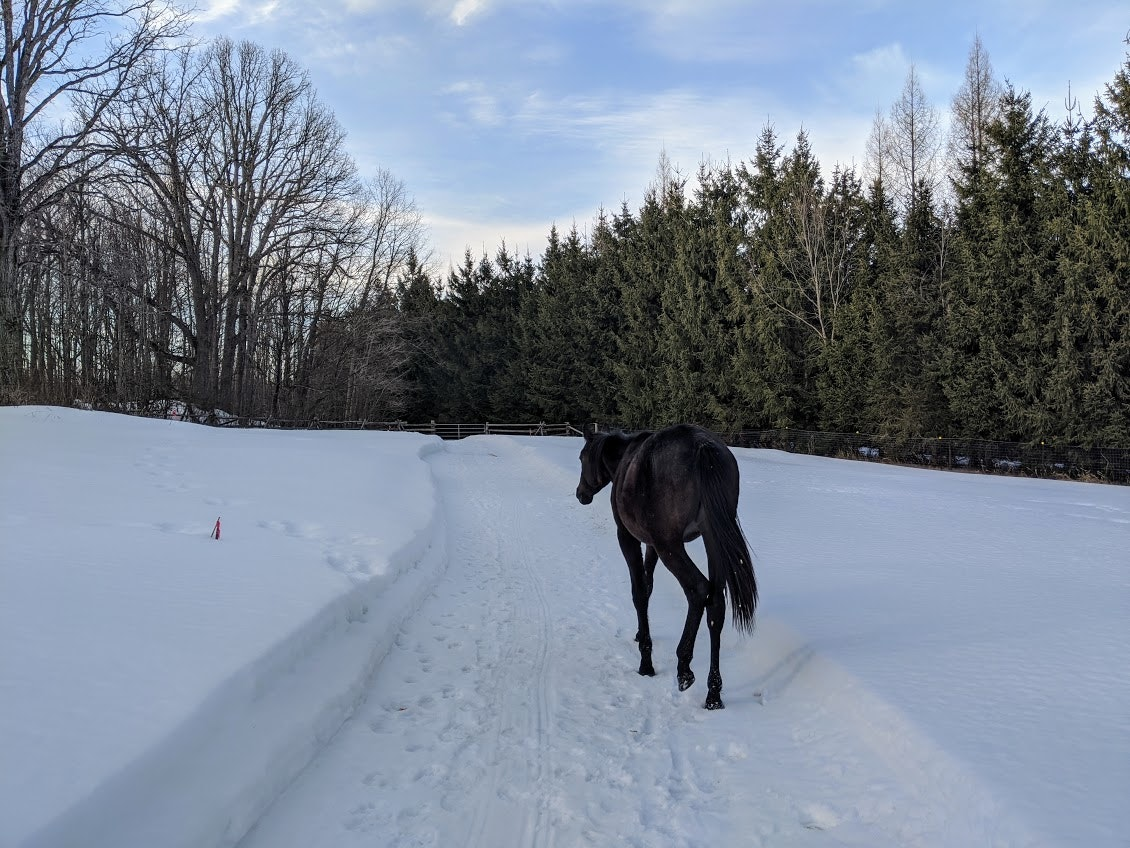 Being able to share this place with my father was one of the greatest joys of moving here. This is a man who sees the trees his friends (when you consider his German ancestors literally worshipped trees, it makes sense). His deep love of nature shaped my childhood in ways big and small. I am certain that his habitual optimism and open-hearted generosity have their wellspring in the connection he feels to the earth and all her friends. The fact that his reaction to the surprisingly painful pre-surgical Covid-19 testing was, "well, I learned something new. It was a sensation I have never experienced in my life before," says much about his sunny outlook and openness to new experiences, even in his 80s.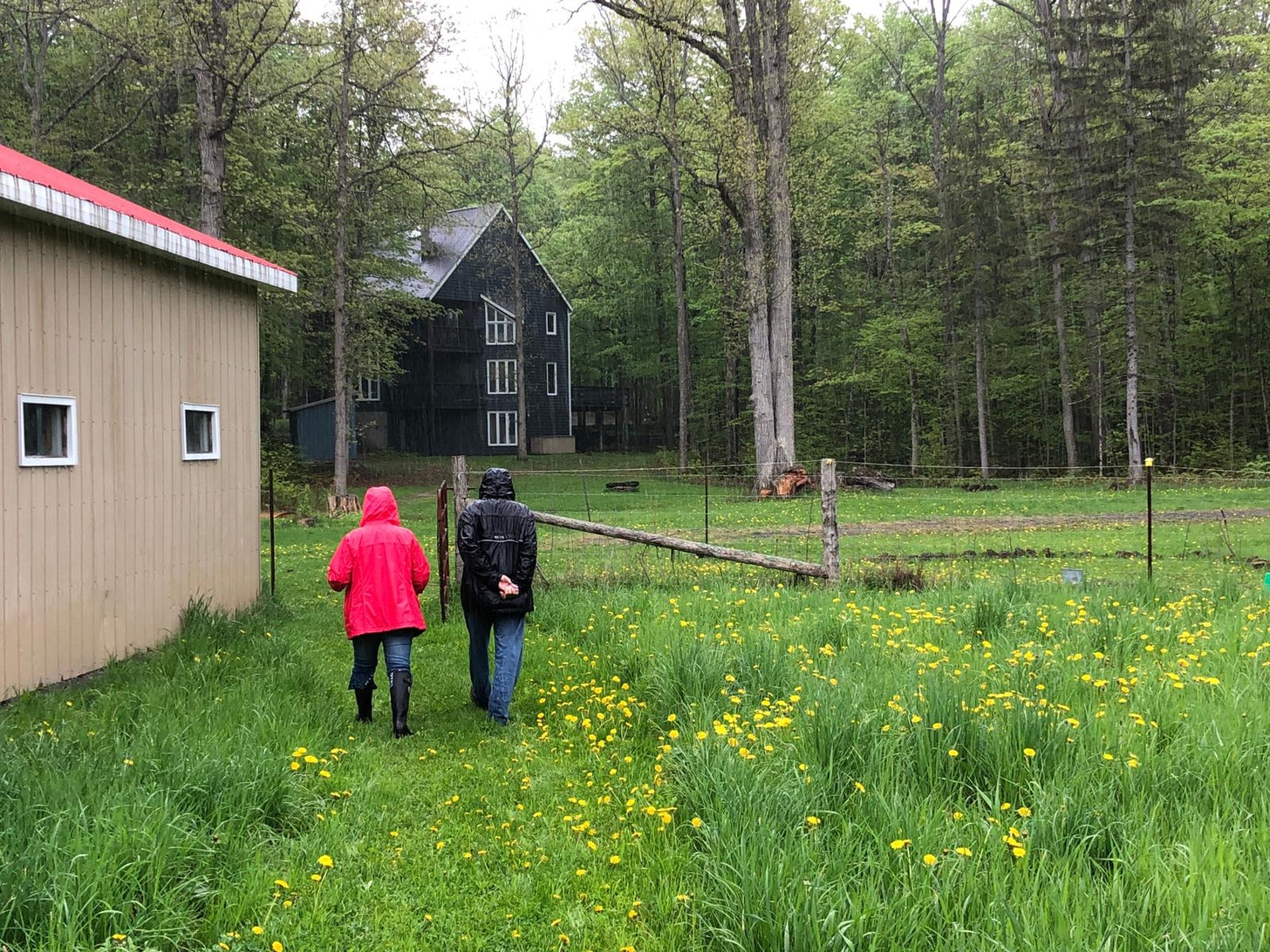 I look forward to having him back here soon. But in the meantime, his friends the trees, stand with me, in silent solidarity.