October 10, 2021
Agroforestry and indigenous women
When resistance also means regeneration and the preservation of biodiversity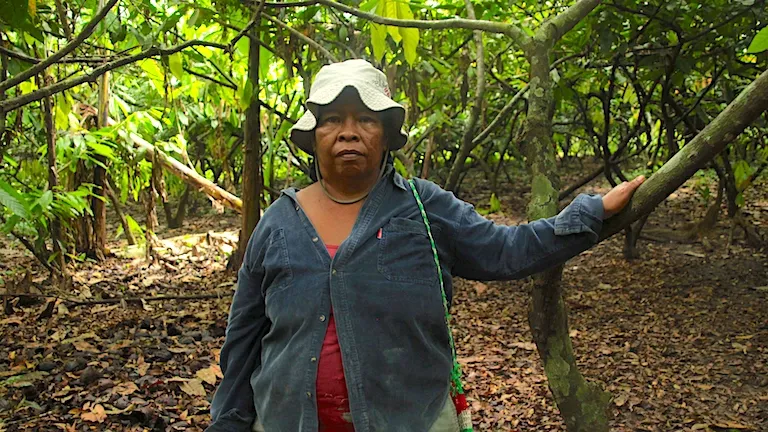 A link entirely worth clicking on--Monica Pelliccia writes in Mongabay about the agroforestry practice of Bribri women of southern Costa Rica's Caribbean region of Talamanca:
The Bribri are one of the world's few matrilineal societies: land is handed down from mother to daughter. Cocoa is at the center of another noteworthy ancestral practice, forming the core of their sacred rituals. "Cocoa represents women in our cosmovision"
Because Bribri women are the dominant cocoa producers and landowners in the region, they have successfully organized into a collective, the Association of Indigenous Women of Talamanca (ACOMUITA). ACOMUITA resists both the pressure of a patriarchal society and the drive toward industrial monocultural agriculture:
"We buy cocoa beans from our associates, roast them, and transform them into chocolate," says Mallorga, 53. Currently, 89 women are part of this association blending cocoa-related activities with women's empowerment.
(I was delighted to note that all the Bribri women in leadership positions profiled in this article are in the 50s and 60s).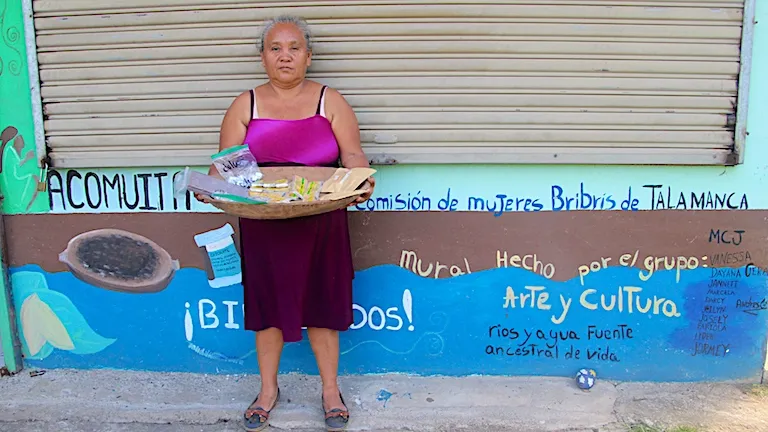 "Thanks to organic cocoa they became a platform to promote social issues like women's health and to create connections with feminist organizations," [political ecology professor at the University of Costa Rica (UCR), Tania] Rodríguez Echavarría says. "Together they improved the price of the cocoa and became key actors of the Talamanca territory. Also, the Costa Rican government has started to recognize them. Despite women being the landowners and in most cases the managers of the fieldwork, we have to avoid idealization of the matrilineal society: the patriarchal system is also part of their daily lives."
This feminist direct action occurs in the context of the longstanding resistence of the indigenous Bribri people:
"Indigenous Bribri fields are the opposite of monoculture: their presence is a political act," says Kattia Acuña, a professor of sociology at UCR. "Talamanca has been an indomitable land since the 1500s when the Indigenous people fought against colonization. Centuries later, they still resist the advance of agro-extractive industries."
Alongside cocoa, an array of plant and animal species are cultivated in the traditional manner:
In Costa Rica, agroforestry systems are known as fincas integrales, a seemingly disorderly system that reminds one of the creative mess of a tropical forest. Timber trees such as laurel (Cordia alliodora), cedar (Cedrela odorata) and mountain almond (Dipteryx panamensis) dominate these agricultural landscapes. Under their shade grow fruit trees such as orange (Citrus sinensis), lemon (Citrus limonia), star fruit (Averrhoa carambola), soursop (Annona muricata) and sapote (Pouteria sapota). These in turn give needed shade to medicinal plants such as comfrey (Symphytum officinale), goosefoot (Chenopodium graveolens) and hombre grande (Quassia amara), used to heal respiratory diseases and snake bites, among other uses.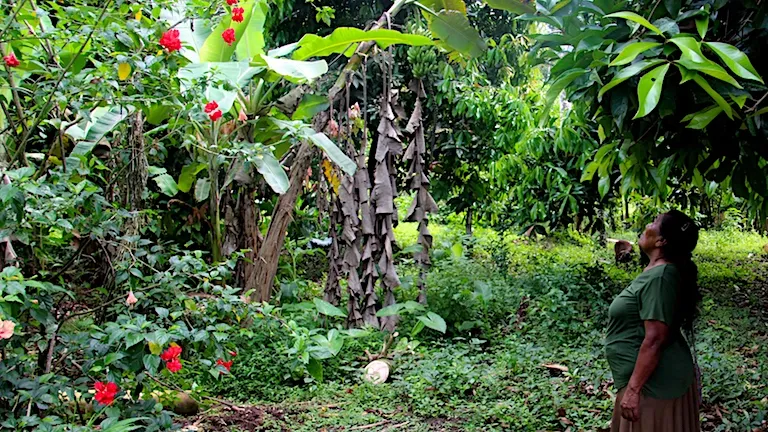 These plantings make the community nearly self-sufficient, as they provide food, construction materials, and medicines. "In Bribri territory of Talamanca we found a complex multi-strata system with more than 30 tree species," says Ricardo Salazar, agroforestry professor and researcher at the Costa Rica Institute of Technology. "Each tree offers different services: timber to build houses and boats, firewood, fruit for food, and crops such as cocoa and banana that could provide extra income to the families."
The community's agroforestry plots are also home to a variety of animals, from domestic pigs, chickens and horses, to wildlife such as the yigüirro (also known as the clay-colored thrush, Turdus grayi, the national bird of Costa Rica), toucans (family Ramphastidae), red-lored parrot (Amazona autumnalis), stingless bees (Melipona spp.), important cocoa-pollinating insects such as midges (Forcipomyia spp.), and mammals like the tepezcuintle (or lowland paca, Cuniculus paca) and white-lipped peccary (Tayassu pecari).